Marketing Professional Creating Content and copy Driving demand in a Digital world
We are in the business of Helping Companies solve their Marketing Problems and thrive in a digital world, with a full range of marketing services to assist them in growing and prospering.
Assisting you with your marketing needs. Autoresponders, Lead Gen Campaigns, Websites, Website Content, Landing Pages, Emails, Direct Mail, Direct Response, Creative Writing, Business, Storytelling.
Plus a lot More Set up an Appointment to Discuss how I can Assist you with your marketing needs.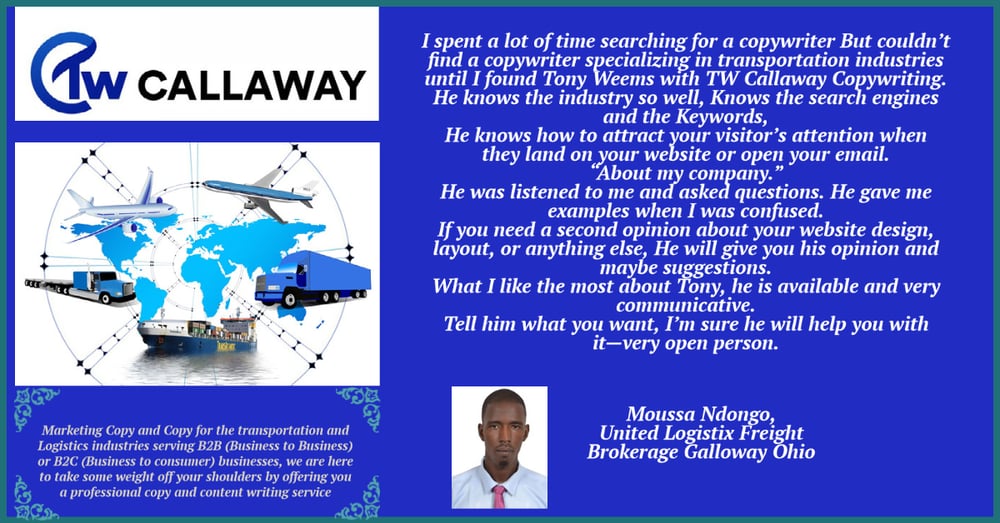 Helping you find the solutions to your marketing problems. No Matter the Size of your Business
Working with Large and Small Businesses that want to grow
A writer who understands what you are dealing with and has the insight and capabilities to write engaging and compelling copy and content to gain leads/customers boost your bottom line. A professional copy and content writer writing your marketing materials can free up valuable time and save you a few headaches. When you look at the cost vs. the profit gained, you will find that you come out on top. Contact me or Click on the link to set up a Constant Contact Account.

Here are just a few benefits of working with us here at TW Callaway.
• Full range of marketing services for businesses of all sizes.

• Personal 1 on one assistance and consultation on how best to improve your marketing efforts.

• Having someone that's is easy to contact for help with their marketing problems.

• We know and understand your customers and how best to relate to them.

• Reasonable rates.

• You can manage your own marketing/account with little to no help from us, or you can have us manage your marketing for you.


If You already have a website that you like If that's the case, let me ask you a couple of questions.
Is your website bringing in new customers?
While most small businesses have a website, it does not bring many customers to their store to make purchases.
How many people on average visit your website daily?
If the answer was a few per day or even a week, I ask you this: Is your website SEO (Search Engine Optimization) compliant?
Have your website Optimized for search engines such as Google, Bing, etc. It helps customers find you on the web by cutting through all the noise and clutter on the world wide web.
Do you have an online store, or Can your customers book appointments online?
Did I hear you when you said no? So, you don't have an online store or a way for customers to book appointments with you. No problem, I can set you up with an online store or a way for your customers to book appointments with you, even if you have a website already set up and running.
Do you use text messages for customers to join your email list, special offers, and more?
Texting has become a prevalent thing in today's world and allows businesses to reach the younger generations. Plus, it makes it a lot easier for customers to complete the desired action.
Segmenting email list?
Segmentation of your email list lets your customers email just those customers interested. For example, you have a particular product/service in a special sale instead of sending out a broad email to your whole list. You don't want to flood your customers' inboxes with emails on products/services that they are not interested in. that will only annoy them and spam your emails.
Send out a hundred emails with just a couple of clicks?
Have an extensive email list that you want to send an email to with Constant Contact you can. At that point, you can either write the email yourself or have it professionally done for you. So all you need to do is copy and paste, then hit the send button. You are sending it out to the segmentation you want.
Do you run a split A/B test with your email campaigns?
Testing your emails is an effective way of discovering what types of email subject lines customers will respond to and what kinds of emails. With Constant Contact, you can run a split A/B test on your emails.
Need More Information Leave a message and I will get back to you within 24 Hours
Be Sure to Follow us on your favorite Social Media Page
There are several ways that I can assist you with your marketing content. Everything from emails ,website content, social media, lead gen campaigns, etc. Schedule a zoom meeting to discuss your content needs in more detail.